Sunday 10 June 7.00pm.
Drill Hall Gallery, ANU
Building 29,
Kingsley Street,
Acton, 2601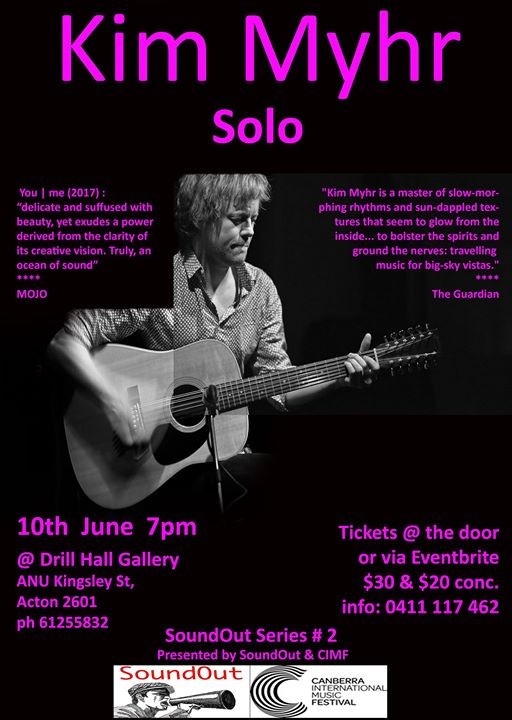 SoundOut and the Canberra International Music Festival are proud to present Kim Myhr solo
Kim Myhr is one of the leading voices of the Norwegian experimental music scene, both as a composer and guitarist. Myhr's solo music can be described as an orchestral exploration of the 12-string guitar. He has released three solo records, 'All Your Limbs Singing' (2014), 'Bloom' (2016), and 'You | Me' (2017). The new release features contributions from drummers Tony Buck (The Necks), Hans Hulbækmo (Atomic) and Ingar Zach, and has received widespread critical acclaim. 'You | Me' also received an honourable mention at Nordic Music Prize 2018. The jury stated: "This is a sonically adventurous record, beautifully listenable and immersive but never wilfully difficult, spanning both the sound worlds of contemporary jazz guitar and modern classical music".
Myhr is an active composer, writing for chamber ensembles, electroacoustic settings and various theatrical projects. He is premiering a new work for Australian Art Orchestra at Melbourne Jazz Festival this June, and has been performing regularly in Australia the last ten years.
Tickets
Adult: $30.00
Concession: $20.00
Available at the door, or online at eventbrite.